RR-ARTIFACTS.COM
Gold Replacement End Caps
_________________________________________
NOTICE !
We are no longer making our line
of replacement end caps.
Our replacement end caps have always been made just like the
original McIntosh end caps - with a hard-anodized aluminum finish.
The nice glossy finish is produced by using Hexavalent Chromium (CR6)
as part of the hard-anodizing process.
Hexavalent Chromium is a toxic carcinogen and in 2017 was
banned worldwide as part of the RoHS directive.
It is now used only in some specialized aerospace applications.
For the past year we have worked with a variety of machine shops
and platers on this problem. We have tried anodizing the aluminum
with the acceptable Trivalent Chromium, but the finish is dull.
We have tried plating the aluminum wiht Nickel Chromium and
while the finish is glossy, it is the wrong color and the plating is
not smooth enough.
All of our tests and trials of materials and plating have produced
less-than-satisfactory results. We have exhausted all avenues
and have concluded that it is no longer possible to replicate
the finish of the original end caps.
As our current stock of end caps is depleted,
they will no longer be available.
If the listing or order form shows "N.L.A."
[No Longer Available], then that is it!
We don't have any more squirreled away in a corner.
_________________________________________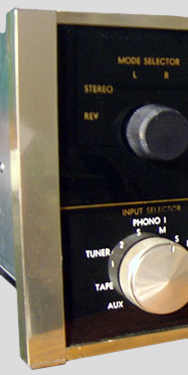 ........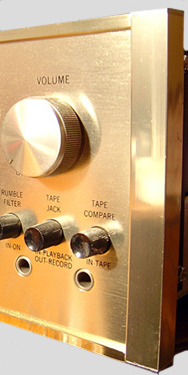 020-005 GOLD ANODIZED ALUMINUM END CAPS
These end caps were produced from 1960 to 1963. They are removable (to access side controls) and they are reversible (can be used on either side) and attach with a press-fit on two pins protruding from the faceplate.
They were used on the following equipment:

PRE-AMPS:

C 11
C 20 (mid-production): Serial Numbers 6L001 through 8L379
C 20 (late-production): Serial Numbers 100A1 through 329A2


TUNERS:

MR 65
MR 65A
MR 65B
MR 66


TUNER/PRE-AMPS:

MX 110 (early-production): Serial Numbers 100M1 through 215M8
MX 110 (mid-production): Serial Numbers 100X1 through 196X3
OSCILLOSCOPE:

MI 2
Note: These end caps have a 4-3/4" pin spacing. McIntosh made an undocumented change in the front panels and end caps during production. Some early units had a 4-1/2" pin spacing - most had the 4-3/4" spacing. The McIntosh part number was the same for both versions! Check your equipment before ordering!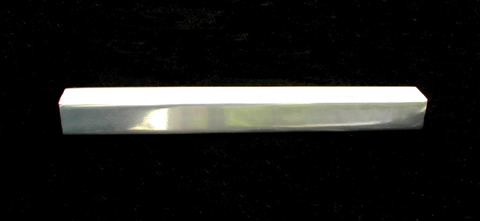 RR-ARTIFACTS 020-005 replacement end caps
020-005P - $109 pair
_________________________________________
Go to Ordering Information page
_________________________________________
Disclaimer:
RR-ARTifacts, VintageMac and Sundance Marketing, Inc. are not in any way associated with McIntosh Laboratory.
Products offered for sale by RR-ARTifacts, VintageMac and Sundance Marketing, Inc. have not been endorsed, approved, sponsored,
licensed or in any other way reviewed or recognized by McIntosh Laboratory.
This web site and the products offered herein are not intended to suggest any association with McIntosh Laboratory
nor to represent RR-ARTifacts, VintageMac or Sundance Marketing, Inc. as an authorized McIntosh dealer.
RR-ARTIFACTS.COM
(a division of Sundance Marketing, Inc.)
P.O. Box 13726
Portland, OR 97213-0726
PHONE: 503-233-3908
(Monday - Friday: 8:00am - 5:00pm Pacific Time)
FAX: 503-235-2865

VintageMac
Copyright © 2007-2021 - Sundance Marketing, Inc.