RR-ARTIFACTS.COM
Replacement Feet
_________________________________________
Are your McIntosh units still sitting on shipping feet?
McIntosh never intended those feet to be used! They had developed the
Panloc system for their units and intended that they be mounted in a
custom cabinet, in a wall or in a McIntosh cabinet.
Those spindly tapered feet were intended as shipping feet - to engage the
holes in the shipping carton so the unit would remain in place
during shipping.
We are now producing custom replacement feet for your McIntosh.
These beefy feet are specially engineered to give your McIntosh a proper look.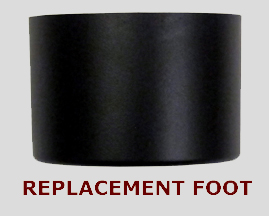 Each foot features a unique offset mounting hole. this allows you to use
the original shipping foot screws and mounting locations.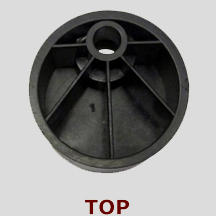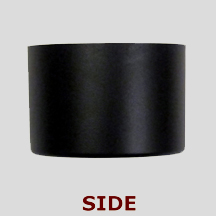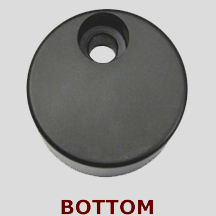 Simply attach the new feet and then rotate them outward
toward the side of the unit for a wide stance.

Our replacement feet are cylindrical in shape, made of black plastic
and measure 1-1/4" across and 1" tall.
These can also be used on the bottom of McIntosh cabinets.
These replacement feet are priced and sold as sets of 4 feet.
Screws are not included and we do not have them - use
the original shipping feet screws or obtain them from
your local hardware store or from McIntosh.
018-999 - $8.00 / Set of 4 feet
_________________________________________
Go to Ordering Information page
_________________________________________
Disclaimer:
RR-ARTifacts, VintageMac and Sundance Marketing, Inc. are not in any way associated with McIntosh Laboratory.
Products offered for sale by RR-ARTifacts, VintageMac and Sundance Marketing, Inc. have not been endorsed, approved, sponsored,
licensed or in any other way reviewed or recognized by McIntosh Laboratory.
This web site and the products offered herein are not intended to suggest any association with McIntosh Laboratory
nor to represent RR-ARTifacts, VintageMac or Sundance Marketing, Inc. as an authorized McIntosh dealer.
RR-ARTIFACTS.COM
(a division of Sundance Marketing, Inc.)
P.O. Box 13726
Portland, OR 97213-0726
PHONE: 503-233-3908
(Monday - Friday: 8:00am - 5:00pm Pacific Time)

]
VintageMac
Copyright © 2007-2021 - Sundance Marketing, Inc.